2020-2021 PROMPPT conducted a Feasibility Study to test whether a full randomised controlled trial was possible to test the effectiveness of the PROMPPT review.
Background and study aims
Opioids are commonly prescribed for persistent non-cancer pain ('persistent pain') but they do not help most patients and there are important safety concerns. Guidelines say patients on long-term opioids should be reviewed regularly, but often this does not happen. This study looked at a new way to review patients taking opioids for persistent pain, using pharmacists who work in GP practices ('practice pharmacists').
People with persistent pain and a range of healthcare professionals helped design the new review, which is called PROMPPT (Proactive clinical Review of patients taking Opioid Medicines Pain led by clinical Pharmacists in primary care Teams). PROMPPT aims to support patients with persistent pain to safely reduce opioids, where appropriate, without making pain worse.
This study aimed to answer the following questions:
(1) How acceptable is PROMPPT to patients, practice pharmacists and GPs?
(2) How practical is it to deliver PROMPPT in general practices?
(3) How well does the study design work and is it possible to collect the information that would be needed in a future clinical trial
Who participated in the study
148 adult patients (aged over 18 years) with persistent pain who had been prescribed an opioid medicine for at least six months were recruited from four general (GP) practices across Staffordshire and Nottinghamshire.
What did the study involve
Study participants completed questionnaires at the start of the study and after 3 months. A sample of participants also had a PROMPPT review with the practice pharmacist from their GP surgery. After the review, participants were asked to complete a questionnaire about the review and 15 participants were interviewed. The practice pharmacist and one GP from each of the four practices in the study were also interviewed.
What were the results of the study?
A sample of 88 patients took part in the questionnaire study were invited for a PROMPPT review and 80 of these took part in the review. Most reviews (78 out of 80) were completed by telephone because of the COVID-19 pandemic.
Nine out of ten patients rated the review acceptable or completely acceptable on the questionnaire. Overall, patients, pharmacists and GPs interviewed thought the PROMPPT reviews were a good idea and felt it was appropriate for practice pharmacists to conduct them. Patients and pharmacists said they would prefer a face-to-face review where possible. Although patients liked the review overall, some patients said they felt worried about what would happen before the review. Most patients who had agreed to make changes to their opioids were happy with the plan and found the review helpful, but some patients felt confused about what medicines to take. Patients were more likely to be satisfied with the plan when clear arrangements for a follow-up appointment had been made.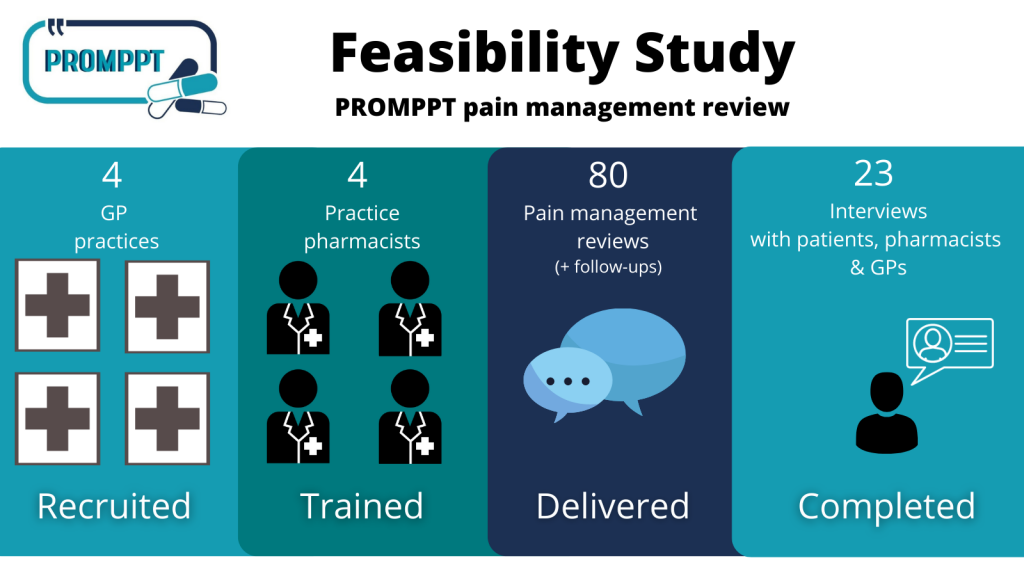 Where was the study run from?
Keele University Clinical Trials Unit (UK)
When did the study take place?
November 2020 to September 2021
Who funded the study?
National Institute for Health and Care Research (NIHR) (UK)
Conference presentations
The findings from the feasibility study have been presented at:
Society of Academic Primary Care (SAPC) 2023